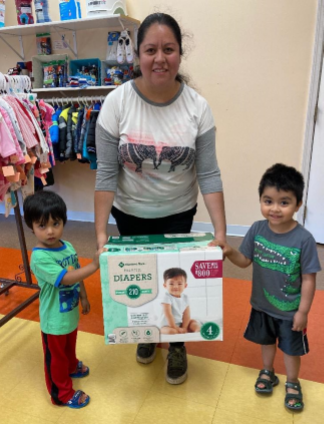 As businesses closed their doors last Spring, many of our neighbors faced income loss and suddenly found themselves struggling to meet basic needs. When families like Ana's needed a little extra help, United Way donors filled the gap, providing a crucial safety net for those facing crisis due to COVID-19.
A grant from the COVID-19 Community Response Fund, a partnership between United Way and the Community Foundation of Elkhart County, allowed Women's Care Center to put 15,325 diapers directly into the hands of families like Ana's in their time of need.
"Thank you so much for helping our family during this difficult time. No words could ever truly explain how grateful we were to be able to have your support while our employment has decreased with all the restrictions going on right now. I'm so thankful that you are here to continue to not only keep diapers on our little ones' bottoms, but also educate us in our daily and ongoing parenting endeavors with emotional support." -Ana
Your support makes a difference for local families in crisis. Baby wipes, diapers, and formula are just a few of the emergency needs that United Way donors help to supply. Thank you for helping us all Live United.
Click here to learn more about United Way's COVID relief efforts
---
Cuando las empresas cerraron sus puertas la primavera pasada, muchos de nuestros vecinos enfrentaron pérdidas de ingresos y de repente se encontraron luchando por satisfacer sus necesidades básicas. Cuando familias como la de Ana necesitaban un poco de ayuda adicional, los donantes de United Way llenaron el vacío, proporcionando una red de seguridad crucial para quienes enfrentan una crisis debido al COVID-19.
Una subvención del Community Response Fund COVID-19, una asociación entre United Way y la Fundación Comunitaria del Condado de Elkhart, permitió que Women's Care Center pusiera 15,325 pañales directamente en manos de familias como la de Ana en su momento de necesidad.
"Muchas gracias por ayudar a nuestra familia durante este momento difícil. No hay palabras que puedan explicar realmente lo agradecidos que estábamos de poder contar con su apoyo mientras nuestro empleo ha disminuido con todas las restricciones vigentes en este momento. Estoy muy agradecido de que esté aquí para continuar no solo para mantener los pañales en el trasero de nuestros pequeños, sino también para educarnos en nuestros esfuerzos diarios y continuos de crianza con apoyo emocional". -Ana
Su apoyo hace la diferencia para las familias locales en crisis. Toallitas húmedas para bebés, pañales y fórmula son solo algunas de las necesidades de emergencia que los donantes de United Way ayudan a cubrir. Gracias por ayudarnos a todos Vivir Unidos (Live United).